MTN Nigeria Listing by Introduction Thursday, a major boost for Nigerian bourse
MTN Nigeria Plc will list its shares, by way of Introduction, on the floor of the Nigerian Stock Exchange (NSE) on Wednesday. According to information in the market, about 20.35 billion shares will be listed.
This, on estimate, implies a conversion ratio of 50 new ordinary shares for each of the previously held unit of shares.
Upon listing, the company is expected to be the second most capitalized in the Nigerian Stock market. The stock is expected to be listed on the Premium Board category (currently, only ACCESS, UBA, ZENITH, FBNH, DANGCEM, WAPCO, and SEPLAT are on this board). Nigeria is a big telecoms market and MTNN is well positioned and major player in the market.
Nigeria is Africa's largest telecoms market, with exciting demographic opportunity – huge population (characterized by a bourgeoning youth), low data, fintech, and digital penetration, as well as huge unbanked adult population.
MTNN is the leading mobile operator in Nigeria. The company has delivered impressive performance since launch, supported by both the first-mover advantage and significant investments (of over NGN1.4 trillion in the last decade) into scaling market position. MTNN refreshed its management in 2017 to support the execution of the new growth initiatives developed following a challenging 2015.
According to analysts, MTNN has been posting impressive results. Its first quarter 2019 results, the company did very well.
It recently published a very impressive result for the first quarter 2019. The company's performance, in the Jan-Mar period wherein a lot companies' operations were affected by elections, is about the best among the non-bank companies that were tracked by Cordros Capital .
"Attractive highlights of the result, including guidance provided by management at the recent analyst presentation, are:
"Revenue grew by 13% y/y to NGN282, equating to NGN1.13 trillion when annualized (potentially the biggest among all listed companies).
"EBITDA increased by 44% y/y, with the margin at 53.3% (note – only DANGCEM and OKOMUOIL are able to deliver +50% EBITDA margins).
"PAT grew by 50% y/y, with the margin at 17.2%. ROE of 99.5%, with a guidance of 90%.Dividend payout ratio to be 80%, consistent with the high payout maintained by the listed multinationals.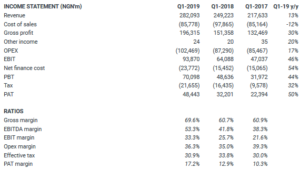 "Data subscribers improved by 5.6 million y/y to 20.4 million. Total subscribers increased by 3.6% y/y to 60.3 million. Received approval in principle for the super-agent license; this will enable implementation of fintech strategy"
"Compared to the previous OTC structure, the upcoming listing portends significant liquidity opportunity for all existing holders of MTNN's shares. Holders of the company's shares had been advised late in April of the transfer of their shares into the Central Securities Clearing Systems (CSCS). We can confirm that shareholders who have forwarded their duly executed Share Transfer Forms to the Nominee will be able to trade their shares upon listing, given that their individual CSSC accounts have already been credited", analysts at Cordros Capital said.