Swedish Embassy organises "Meet the Icons event in Abuja
Swedish Embassy in Nigeria on Friday in Abuja organised Meet the Icon event, and according to the embassy, integrity Icon is a global campaign run by citizens in search of honest government officials. It aims to generate debates around the idea of integrity and demonstrate the importance of honesty and personal responsibility.
"It  hopes to inspire a new generation of public servants who are more effective. Corruption in the Nigerian public service has led to gross inefficiencies across all sectors of our economy and reduced public trust in the system.
"The media's role in amplifying the presence of corrupt public officials often overshadows the roles played by honest public officials and presents a near hopeless view of the Nigerian public service. It also discourages many Nigerians from doing the right thing.
"Integrity Icon aims to amplify the stories and voices of honest government officials through the media so as to rewrite the common narrative that the civil service is corrupt.
"The five finalists for the 2019 Integrity Icon campaign are: Kacheilom Betram-Roberts Ndukwe, CSP. Francis Erhabor, Tina Odinakachi Iirmdu, Christian Ngozi Ahiauzu and Tani Ali Nimlan", the embassy explained.
Sam Emenogu, Programme Officer at Accountability Lab Nigeria said: "This event presents an opportunity to let Nigerians know that there are still persons of integrity in the Nigerian civil service. The campaign also seeks to drive conversations between the media, civil society organizations (CSOs), the government and citizens about integrity in the workplace."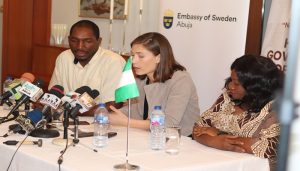 Country Director of Accountability Lab Nigeria, Friday Odeh, told attendees at the event that people needed civil service heroes to look up to. "We need people to stand up and take action. We just need people to stand up and do the right thing. We know the society we're in and for you to stand for integrity it takes a lot and you need to be brave. The work we do is always in partnership and collaboration with government agencies, civil society organizations, and citizens because national development requires all stakeholders to commit to building a nation we are all proud to live in," he said.
The Swedish Ambassador to Nigeria, Carl-Michael Grans said during his opening remarks: "What you do as an Integrity Icon is really crucial for a successful government in any country. Spreading democracy is a top priority for the Swedish government; promoting accountability, transparency and fighting corruption is really key for democratic development."
He also said that the media have a central part to play in the push for democracy.
According to him, "the Integrity Icon campaign is currently in its third year, having launched in 2017. So far, the campaign has identified a total of fifteen Integrity Icons across the Nigerian civil service who are shining examples of what it means to be an upright public official. The campaign seeks to foster collaboration with the media in telling the stories of these icons in order to reimagine the civil service.
"These icons remind us that there are many dedicated officials who do not see the public service as an avenue for enriching themselves with public funds. The Integrity Icon Nigeria summit and Awards Ceremony is slated for January 20th and 21st, 2020. These events will officially mark the celebration of the 2019 Integrity Icons and their amazing work. Lastly, nominations are already open for the 2020 Integrity Icon campaign and these can be made via https://cutt.ly/iin2020. Nominations close on March 30th, 2020.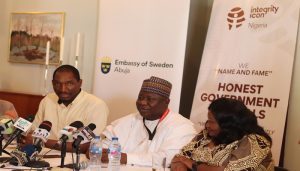 Integrity Icon is a global campaign run by citizens to name and fame honest government officials whose work impacts society positively. It aims to generate debate around the idea of integrity and demonstrate the importance of honesty and personal responsibility. The campaign is currently active in Pakistan, Nepal, Liberia, Mali, Nigeria, South Africa, and Mexico. Integrity Icon Nigeria is sponsored by the Ford Foundation, John D. and Catherine T. MacArthur Foundation, Luminate, and Open Society Foundations. The organisers explained.
Accountability Lab Nigeria (www.accountabilitylab.org) is building a new generation of active citizens and responsible leaders across Nigeria. The Lab develops creative campaigns, runs a highly competitive Accountability Incubator for young civil society change-makers and develops new approaches to citizen feedback in Nigeria.
Sweden is a Scandinavian nation with thousands of coastal islands and inland lakes, along with vast boreal forests and glaciated mountains. Its principal cities, eastern capital Stockholm and southwestern Gothenburg and Malmö, are all coastal. Stockholm is built on 14 islands. It has more than 50 bridges, as well as the medieval old town, Gamla Stan, royal palaces and museums such as open-air Skansen.
The country has a 1,000-year-long continuous history as a sovereign state, but its territorial expanse changed often until 1809. Today it is a constitutional monarchy with a well-established parliamentary democracy that dates from 1917. Swedish society is ethnically and religiously very homogeneous, although recent immigration has created some social diversity.
Historically, Sweden rose from backwardness and poverty into a highly developed postindustrial society and advanced welfare state with a standard of living and life expectancy that rank among the highest in the world.