Day I got Gani infuriated
Late Gani Fawehinmi, was no doubt a fiery legal luminary who held every  successive administrations in Nigeria during his entire life time by the jugular.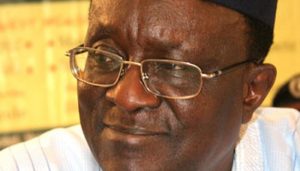 In fact, since his demise, government after government would have been be thanking their stars for not having him around anymore. He was a 'General' of the masses who never bothered much about his own life; but did everything to fight for a better society especially for the downtrodden.
Fawehinmi, truly and genuinely, fought for the masses. He never compromised this for anything till he breathed his last. He even floated a party, National Conscience Party (NCP) which he wanted to use as a conveyor belt to get to executive office with the sole aim of salvaging the masses from the shackles of oppression.
It is on record that he was conferred with the award of Senior Advocate of the Masses (SAM). Sadly, however, due to the nation's corrupt system, the respected activist, was supposedly rejected at the polls by the same masses when he flew the flag of NCP as a Presidential Candidate – an irony of fate of some sort!
During his days, activism was more in the southwestern states including Osun where he had ample followers coordinated by Comrade Amitolu Shittu who I call an activist with "Pot Belly". The late lawyer called him (Amitolu) "Dynamo" or a "Rebel with a Cause".
Interestingly, my friend, Amitolu, has now shed the toga of activism and donned the flowing garb (agbada) of politics and has joined the fray of level-changing mantra.
Late Fawehinmi was a friend of journalists and he never shied away from having regular interface with them. His followers knew this, which they cashed in on from time to time.
As a result, Amitolu, in concert with the likes of Waheed Lawal, had arranged a press conference for the Ondo-born lawyer on Friday, 26th September, 1997 at Osun NUJ, when Kayode  Akinsola aka Principle, held sway.
Gbenga Fayemiwo, then a reporter and now a lawyer, had doubted  the possibility of Fawehinmi making the trip to Osogbo to address the press. At last, he made it.
In their habitual manner of coming late to event, journalists who were supposed to be addressed, did not turn up on time. I used that opportunity as one of the early birds, to engage Chief Fawehinmi in a one-on- one conversation in the office of the then NUJ Chairman, Mr. Kayode Akinsola. Alhaji Hammed Bodunrin who is today the Ogun State Commandant of NCSDC, was a principal witness of the drama that ensued between Chief Fawehinmi and me.
My question on that fateful day was; Sir, since I have known you, you have never praised any government, why or why are you saying there's nothing good one can point out from anyone of them ? This was the same thread of question I put across to Prof. Wole Soyinka the day I ran into him at Nicon Hilton Hotel in Abuja. (I  will come back to this, one day).
Apparently dazed and piqued by my seeming effrontery, Chief Fawehinmi danced round my question which dove tailed into a near shouting match. Fawehinmi said he decided to be opposing all governments in Nigeria because it was the masses that were feeding them and not the other way round.
Suddenly, the highly respected Ondo born Chief asked me whether I had eaten anything that morning and I  gave him an affirmative yes for an  answer.
Not satisfied with my response, he maintained I might not have anything to eat for the remaining day, I told him I had.
Unfortunately, this turned out to affect the main business of the day: Addressing the Press; the purpose for which he drove all the way to Osogbo.
From that point, Chief Fawehinmi with his flask of hot tea with honey, made for his  jeep and headed back to Lagos. No more press conferences that was the meaning.
His foot soldiers in Osun ably led Amitolu Shittu who midwifed the botched press conference, did not like the fact that my "confrontation" with their boss, led to the abrupt cancellation of the programme.
Journalists who later came  in "twos" and  "threes",  learnt that the media  interactions had gone  up in flames. This was  no thanks to Kayode's argument with the fiery lawyer.
When I remembered the incident some days ago, I put a call through to Amitolu Shittu, then a Comrade but now a Comrade politician (Let's leave this for now), who graciously refreshed my memory concerning the event of that day and the dates.
Thanks, Amit.
This piece is never meant to deride  the respected legal luminary; rather it is to reminisce on some past events.
After all, in 2001, his party, NCP, found me worthy and conferred  on me, Best Writer Award.
When I look back and remember some of these things, with relish, I feel on top of the world.
God bless all of us.